Good morning!
I'm so happy Monday is over and it is now Tuesday!  I'm not a fan of Mondays, are you?
Here is a look at my eats from yesterday (Monday):
Breakfast:  Coffee with creamer, Ezekiel English muffin with egg and cheese
AM Snack:  Apple and chocolate
Lunch:  Green smoothie (spinach, banana, unsweetened vanilla almond milk and ice)
PM Snack-  Whey protein shake mixed with water and more chocolate 
Dinner-  Salad (fresh romaine, cucumber, tomato, red onion, green bell pepper, cheddar cheese, walnuts) with some chicken breast
Dinner
I ate a little too much chocolate yesterday and hope to curb that tomorrow.  Especially, since I don't want to eat it all before company comes at the end of next week.  I'm a sucker for dark chocolate and peanut m&m's.  Especially during the holidays.
Workout from yesterday was a rest day.  We typically take Monday's as a rest day and sleep in .  It helps with the Monday blues.  I'm all for getting in as much exercise these next few weeks with all the extras I'll be consuming (like chocolate).  I would love to be able to sneak in a little extra cardio at home this week, but that might just be some wishful thinking!
___________________________________________________________
What is your perfect workout length?
Do you like quick short 20 minute workouts, longer 90 minute yoga sessions, or a somewhat standard 45 or 60 minute workout?
Every morning during the week when we go to the gym, Keith and I have an understanding that our workouts will be 45 minutes long.  That way I can get in a good cardio session or manage to squeeze in weights with some cardio.  Keith lifts different muscle groups each day and is on a five day rotation so unless he is moving really slowly, he has no problem getting in his workout in 45 minutes. 
Before our wedding, we spent at least an hour in the gym 6-7 days a week.  We were hardcore about getting in our workouts and making them as good as possible.  Our hard work paid off and we were both feeling fantastic on our wedding day.  During the summer months, we are also more apt to spend an hour in the gym each morning and also on the weekends throughout the year when we aren't in a hurry to get home and get ready for work.  Also, I love hour workouts when we have an event coming up like a beach vacation.  The extra time in the gym really doesn't take much (just getting up even earlier) and it makes me feel extra good at whatever we have coming up.
With yoga, excluding prenatal yoga, I love a good 90 minute hot session.  For some reason spending less time isn't enough for me.  I love the full hour and a half where my muscles warm up and get limber.  I'm a fan of Bikram yoga and their practice is based on a 90 minute model.  Now, on the other hand, prenatal yoga is different.  If I could just do 15 minutes per practice I would be so happy, but I make myself do the 30-45 minute practices to really stretch my hips out.  My stomach has really been getting in the way lately and I've started slacking a little bit on my practice.
In my perfect world, I would workout six days a week, Monday – Saturday with a few longer workouts so I could squeeze in both cardio (45 minutes) and weights.  I would also train intervals at a super high intensity for a few days a week, and in addition go to Bikram yoga 3 days a week and heck, why not, I'd go to Pilates twice a week (100s anyone?).  I'd also walk the dog 2-3 miles each night as well (why not throw that in there too)?  Notice I described this as in my perfect world.  I don't have the time to do this in my everyday life and use videos to get in all my yoga and Pilates that I do these days.  If I had no life and all the time in the world this situation would be ideal but definitely isn't realistic.  I've always been an active person and feel my best when I'm moving throughout the day.  In this perfect world, I'd spend the rest of my days whipping up tasty and healthy eats in my kitchen! 
So, my question for you is what is your ideal time length for a workout?  There is no right or wrong answer here.  I would say my ideal is the 45 minute workout.  It is long enough for me to get in a great workout, but short enough to be able to convince myself to get into the gym for a quick 45 on the days I rather not go.  Plus I can do steady state cardio in 45 minutes, intervals plus strength train a muscle group or get a  good half/full body strength workout in as well.  There is so much I can do in 45 minutes, my options are always endless.
Well, I'm off to train some clients, lots to do before the furniture delivery company arrive with Cameryn's stuff!  Yay!  I can't wait to see it all set up in her room!
I hope it looks as good as it did in the pictures online!  Super cute, no?  Now I just need her bedding to arrive!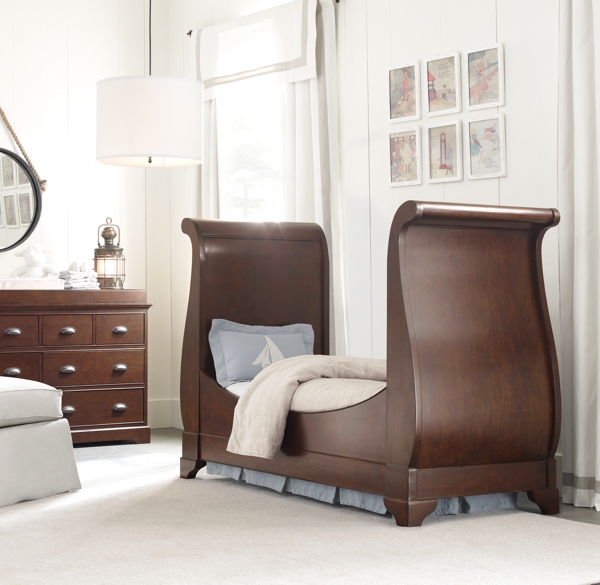 Questions:
What is your ideal time length for a workout?
If you lived in the perfect world, what would your weekly workout schedule look like?
Are you a fan of Pilates?  What is your favorite move?
Anyone else indulging in chocolate this holiday season?